There are lots of tools and methodologies for helping transformation but, as everyone knows, it is people who drive it. This wheel illustrates the key human factors needed for successful transformation.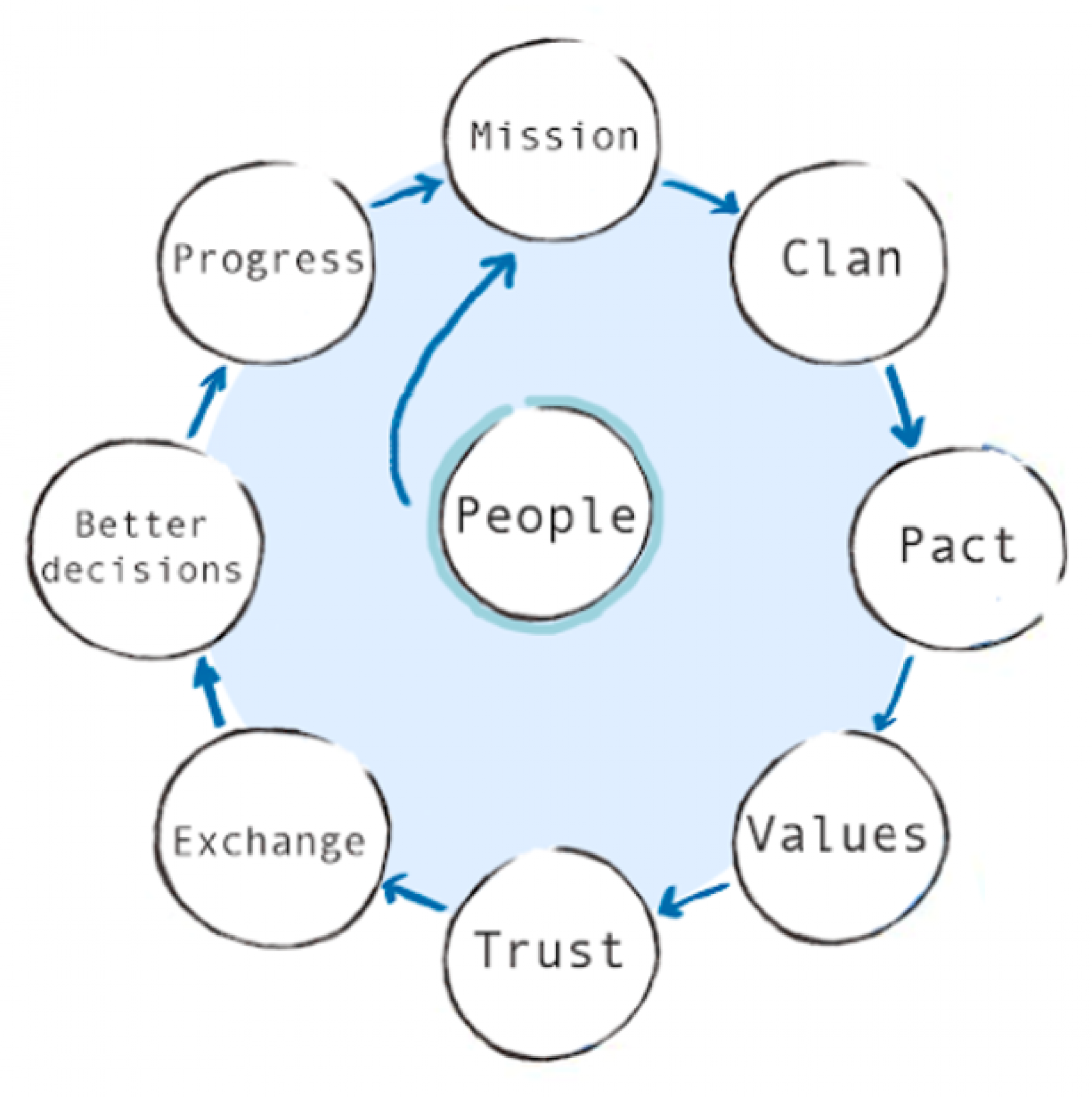 The mission statement is at the core of any successful transformation. In Information Management this mission is rooted on "everyone should have access to reliable and relevant information so the right decisions can be taken".
A clan must then gather around this mission. A group of stakeholders that represent everyone and create a collective drive for progress. Typically, it includes people from higher management, business, IT and users.
This clan has to make a pact around the mission. This pact must answer the governance question of "how do we do it?". The first answer is "together" but then it must define the choice of organisation and mode of operation to ensure success. Thanks to the pact the clan becomes tribal: a clan where everyone is connected and knows what is expected of each other. It is a clan that works as a whole.
Values bind this clan to the pact and the most important value is transparency. It leaves no room for hidden agendas. Other values such as positivism, honesty, dependability, and commitment will help knit the clan together.
Trust develops within this clan and trust frees expression and creativity. There is no resignation or disengagement but instead assertiveness and personal responsibility.
Trust fosters Exchange and exchange is the foundation of collective intelligence. Ideas can be debated and challenged openly to nurture creativity.
Exchange and this collective intelligence lead to Better Decisions. In Information Management, good decisions clarify the People, Processes and Technologies clusters around the Content. In Information Governance, they lead to information policies that reinforce data ownership.
"This process creates trust that leads to progress"
Good decisions generate progress. You cannot determine ahead of time the level of progress but this process underpinned by trust will speed it up.
What about you? Are you in charge of a transformation programme?
Are the following questions enlightening in your situation?
Is the mission clear?
Is the clan complete?
Is the pact agreed on?
Are the values shared and transparent?
Is there trust within the clan?
Is the exchange free and fruitful?
Are you making good decisions together?
Are you seeing progress?